It is a fact that there are a lot of options available when it comes to choosing the best outdoor wood deck tiles or even interlocking deck tiles, and this fact alone can be overwhelming for anyone who do not have any experiences when it comes to choosing among different deck tiles. Even worse, the problem for most people is they don't even know the options that they have. Having said this, the best way to be able to identify the best outdoor wood deck tiles out there is to first get to know the top options and learn about their good and bad points.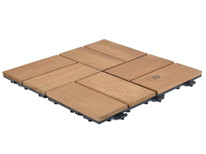 Composite outdoor deck tiles
One option for outdoor deck tiles is a composite wood decking which is considered to be the most versatile among all the available options in the market because it is literally the best of both worlds. It is considered as the luxurious vinyl options for porch flooring because they produce a realistic look and feel to outdoor wood deck tiles without all unnecessary fuss.
The first pro of using this type of deck tile is that it is very easy to maintain because all it needs is a little soap and water to be able to eliminate all the accumulated dirt.This is a very good option to use inside the home because of how safe it can make people feel. What makes this deck tile one of the favorites in the market is the fact that it is very accessible which means that people do not encounter different challenges just to be able to get their hands on composite deck tiles.
On the other hand, one of the negative things about this type of outdoor wood deck tiles is the fact that it easily absorbs heat compared to other because it is made from plastic material. Lastly, the fact that it's not made from real wood adds to the list of the cons for this type of deck tile; it may look like real wood, but of course the feel would still be different.
Traditional wood deck tiles
As opposed to the first type, these traditional wood outdoor wood deck tiles and interlocking deck tiles are still perceived to have high value no matter what because for some people, the real thing cannot be replaced. The overall color and finish of a wood may be imitated, but traditional outdoor wood deck tiles made of wood will always have that rustic and sleek look, making them very suitable for almost all the modern styles these days.
Some of the good things about these traditional outdoor wood deck tiles made from wood is that they are cooler because they retain only a small amount of heat. This is being maximized by a lot of people, especially by those who are living in areas where heat is really brutal and unforgiving. And the most important pro of these traditional wood deck tiles is that they are genuine wood that cannot be replaced by any other artificial material. There really is something about genuine wood that makes it more stylish and durable as long as it is maintained properly.
One of the most common negative trait of these wooden outdoor wood deck tiles is the fact that they are needed more maintenance compared to all the others that are in the market . The next con of these wooden tiles is the fact that they are more high maintenance than all the other types of outdoor wood deck tiles; maintenance procedures such as treatment for termites, wood rot, and sealing must always be done to ensure that the wood will last for a long period of time. The last negative about these outdoor wood deck tiles that are made from wood is that there are some illegally harvested that are still being sold in the market. Having said that, people should be more vigilant regarding the wood that they are trying to purchase at a certain point in time.
Porcelain outdoor wood deck tiles
This type of outdoor wood deck tiles is considered as one of the classic ones because of the stone finish and appearance; this is because the porcelain ones are actually considered to be more durable compared to authentic stone tiles.
One of the most important benefit of going for these porcelain outdoor and interlocking deck tiles is the fact that they are very cheap; add that to the fact that they are also very durable, this is one option that really reel a lot of people in. Not to mention, outdoor and interlocking deck tiles made from porcelain are also considered as one of the easiest to maintain because they only need to be mopped regularly to be sure that they are kept in tiptop shape.
On the other hand, these outdoor tiles made from porcelain also have some negative points - one of which is that they literally do not weather storms very well because extremely cold weather can easily wear them out.
The choice
Now that all the pros and cons of the different types of outdoor and interlocking deck tiles have been discussed, it is safe to assume that people will now have an easier time identifying which one is the best for them. Granted that defining "the best" will not be the same process for everyone, so everything really boils down to being more knowledgeable about the available options and then deciding which one is the perfect fit. Since these tiles are meant to be used in different ways, it's just natural to define which ones are the best depending on where they will be used. The decision can also be dependent on different external factors like budget and overall aesthetic that a person is going for.
At least now that all the options have been revealed, every important factor will be easier to take into consideration.