Experience The Stunning Beauty of Interlocking Stone Deck Tiles
Every homeowner wants a great looking courtyard, a beautiful patio, and an outdoor area where they can entertain their guests or have that lazy Sunday afternoon with the family. Although there are several great ways to achieve this, our interlocking stone deck tiles are the most unique, beautiful and most pocket-friendly outdoor solution.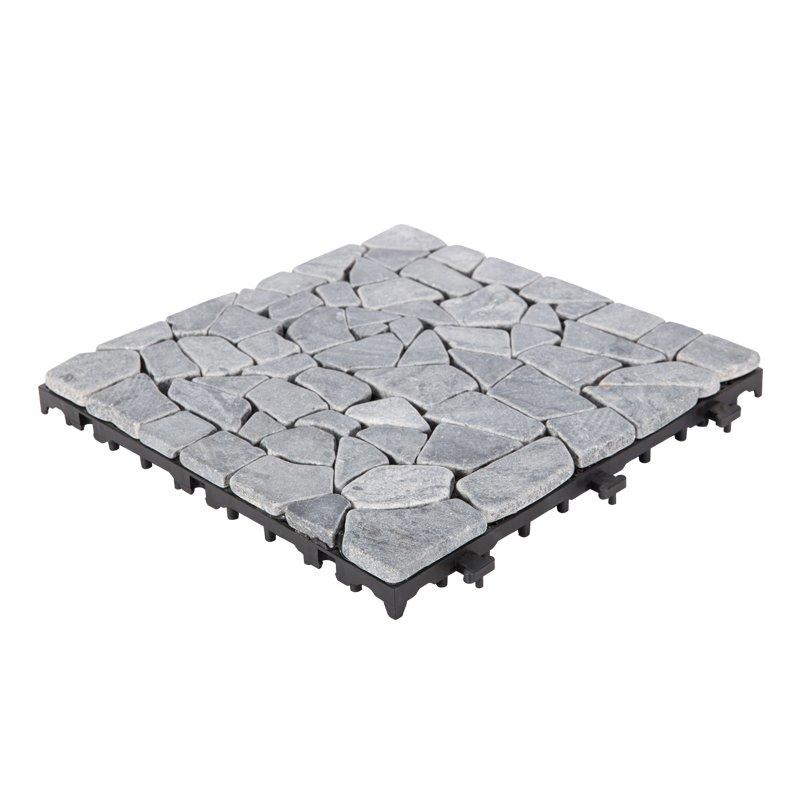 What are Interlocking Stone Deck Tiles?
As one of the best and most recommended floor solutions, stone deck tiles are a set of creative flooring materials generated from garden variety floor tiles. These natural stone tiles are attached to a plastic base, and they are installed by a simple interlocking process that doesn't require mortar, tools, or any factory adhesive. The best part of these stone interlocking deck tiles is that they are maintenance-free, so you don't have to worry about them wearing out once installed.
At Jiabang, we offer interlocking stone deck tiles that are highly durable, anti-slip, and are resistant to wear caused by weather and other factors. Our deck tiles are suitable for various locations, and our different designs can be fitted onto your porch, garden, and any outdoor area. The installation process is also straightforward, so you don't have to worry about any resultant damage to your property. Note that our tiles are of superior quality, which means that they won't just improve your home's aesthetics; they will also enhance the value of your property!
Our primary focus is to transform your lifeless outdoor area into a beautiful, stunning piece of art, to make your neighbours and visitors envy just how stunning your patio looks. Note that Jiabang interlocking stone tiles only need a flat surface for the installation process. You place them on top of your existing wooden or concrete floor. Quick and easy.
Key Considerations
First, before installing deck tiles, you need to establish where you want them installed. Some areas are more protected from damaging elements than others. Our stone interlocking deck tiles are suitable for places that have running water, and they are resistant to damage from sunlight or regular trodding.
Unlike other materials that may age out lose colour after exposure to sunlight and other elements, our interlocking deck tiles are sturdy and durable, so once installed, are guaranteed to stand the test of time.
You will also need to think about the kind of design you want to layout. It depends heavily on your sense of style. It also depends on how you want it to factor into the overall design of your home. We offer several tile designs, ranging from diagonal to complex geometric types. If you're feeling a little adventurous, then you can always find a unique combination of the two. Whatever you decide, our designs will make your home the envy of the neighbourhood!
The Installation Process
The beauty of purchasing interlocking stone deck tiles is the fact that you can do the installation yourself! These tiles are designed in such a way that you can snap them in place quite similar to how you would a jigsaw puzzle. Pegs attached into the holes that you place each stone tile secures the pieces in place and ensures they don't slide off or shift out of place.
You can generally avoid cutting Decking Tiles where you need to fit around fixed objects, odd shaped areas or against walls simply by filling in the gaps or spaces with medium sized pebbles, volcanic rock or other landscaping material.
Why Choose Us?
At JIABANG, we offer top quality products for all your outdoor needs. Our stone tiles are designed with the latest in manufacturing technology, and we thrive on customer satisfaction. As a leading brand in decking tile manufacturing, we subject our products to full quality inspection protocol, ensuring our clients get the best possible quality.
Bottom Line
Interlocking stone deck tiles aren't just limited to improving the overall appearance of your outdoors. They are scratch-resistant, easy to install and replace. If you are looking for a pocket-friendly way to hide defects on your existing floor, creating an entirely new look with minimal fuss. If you are looking for a stunning solution to your ageing patio or dull garden, then stone tiles are the way to go.