China Import and Export Fair is also known as Canton Fair, is established in 1957. Co-hosted by the Ministry of Commerce of PRC and the People's Government of Guangdong Province and organized by China Foreign Trade Centre, it is held every spring and autumn in Guangzhou, China. Canton Fair is a comprehensive international trading event with the longest history, the largest scale, the most complete exhibit variety, the largest buyer attendance, the broadest distribution of buyers' source country and the greatest business turnover in China.
The first time for Jiabang took part in Canton Fair is the year 2004 since her founded, till now Jiabang has the experience in participating the Canton Fair for more than 15 years already. Thus, the Canton Fair is the most important event and has irreplaceable meaning to Jiabang.
During the 122th Canton fairin 2017, Jiabang has more than 400 customers form different countries came toinquiry for her decking tile products in site, 4% of those customers has makeorder with Jiabang for different decking tile product after Canton Fair. Jiabanghave achieved a complete success on 122th Canton Fair, customers from differentcountries have a great satisfaction with Jiabang's decking tile products. Jiabang'sdecking tile products are more and more popular all over the world now.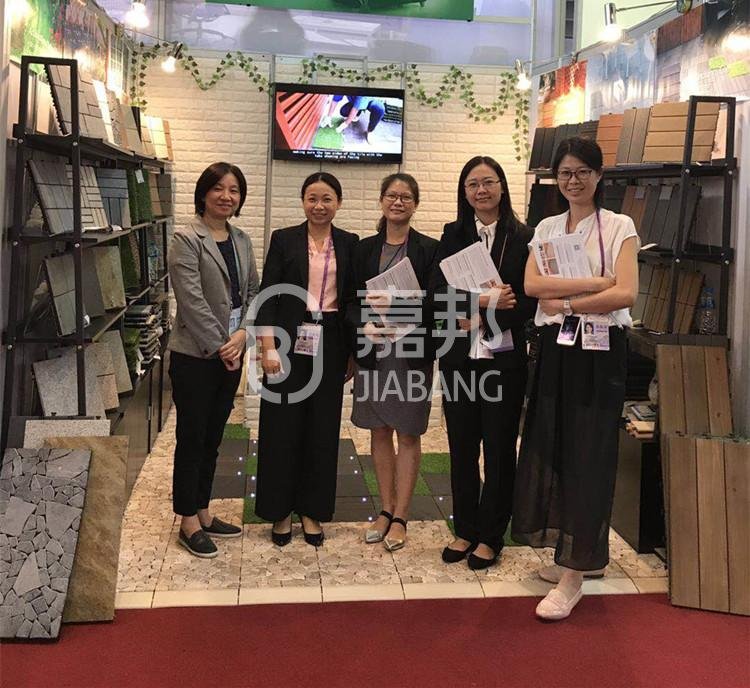 Jiabang will participate the123th Canton Fair again this year, and her booth number is 12.2 J04 phase II,dated from 23rd ~27th 2018. Jiabang can't wait to meetall those old and new customers now! Don't let her wait too long!