The current house costs a lot of money, house owners don't dare to waste any area! As a key choice for house decoration, the floor decoration should not be sloppy. Applying Click Clack tile onto the floor, the floor of the home can be laid out with a sense of high quality.
The neat and uniform Click Clack tile, matching with a set of comfortable lazy sofas or wooden bistro set, the whole space is full of modern and cozy high-end feeling.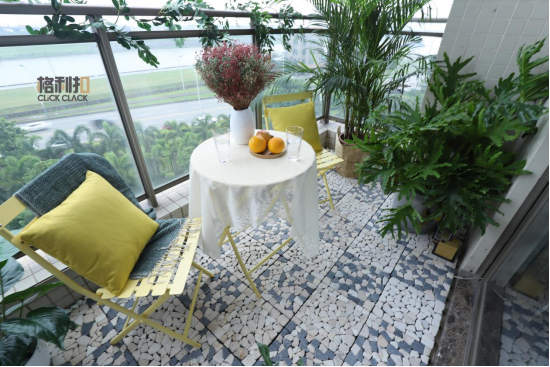 In dozens of squares of space, the overall simple and generous space is elegantly displayed through the deck tile of the floor, which makes the whole home decoration show an elegant and dignified high-end atmosphere.
Look like simple design of deck tile, spliced by buckle,simply click to complete the assembly.It can be widely used in multiple places, terrace, garden, outdoor ,terrace and so on.
Different styles of deck tile can meet your different creations, DIY by yourself, design a special home with your family member.
Everything can be click, click with infinite possibilities, click out high-level.Click Clack tile, assemble the infinite possibilities of every limited space by heart.